Hippo Gives Zoo Surprise Package
by Pensacola News journal, December 27, 2005
Even if there were rooms at the inn, the 3,500-pound Nile hippopotamus Cleopatra wouldn't have fit.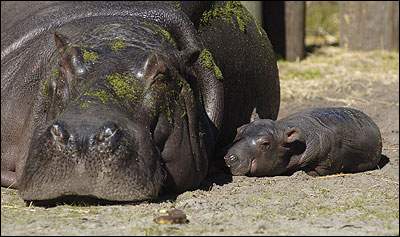 The 20-year-old hippo gave birth somewhat unexpectedly on Christmas morning to a 50-pound calf that has followed her closer than a shadow ever since.
"We weren't sure she was pregnant," said Rob Free, a keeper at The Zoo Northwest Florida, where Cleopatra and her mate, 10-year-old Kiboko, have resided since April.
The two were spotted breeding before they left the animal park in Tampa's Busch Gardens. Father and baby, who have been kept apart to keep the young calf safe, are expected to meet today.
For months, zoo officials watched Cleopatra's expanding stomach getting closer to the ground. A few days before the holidays, she was a little moodier and a little more stubborn, said zoo spokeswoman Natalie Akin.
But with everyone getting a little stressed around the holidays, zoo officials still weren't sure. Not to mention how difficult it would have been to perform a pregnancy test on a 3,500-pound hippo.
About 8 a.m. on Christmas Day, Free was about to feed Cleopatra her grains, nuts and fruits when he noticed that there was a lump about the size of an overnight duffel bag next to the hippo. It had the pinkish-gray hue.
"But obviously, it was not a part of Cleopatra," he said.
When he realized it was a baby hippo, Free was ecstatic.
"Who else gets a hippo for Christmas?" he asked.
Zoo tradition dictates that whoever finds the baby gets to name it. Free, 38, said he will wait until the calf's sex is determined.
Zoo officials expect to examine the baby hippo next week. Cleopatra, like most new hippo moms, is extremely protective and won't let anyone near her baby.
Free said he wants to name it something Egyptian, like its mother, "and something I can pronounce."
On Monday around noon, Cleopatra briefly got up from sleeping to eat from a bucket that Free held. The baby hippo was at her side.
"She's a good mother," Akin said.
Cleopatra nurses her baby every three hours underwater in the algae-filled pond that is part of the extensive hippo habitat at the Zoo. Akin said the baby looks to be in good health.
A baby pygmy hippo named Tonka was born at The Zoo in June 2001. The Zoo's five pygmy hippos are on loan to zoos throughout the nation.