Hippos Celebrate Thanksgiving
by NBC10.com, Nov. 23, 2005
CAMDEN, N.J. — Button and Genny, the two hippopotamuses at Adventure Aquarium in Camden, N.J., observed Thanksgiving a day early.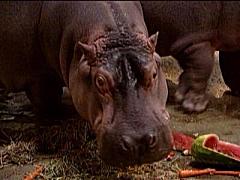 No turkeys were invited to their Thanksgiving feast. The two vegetarians celebrated with cornucopias of fruits, vegetables and hay. They seemed to like the goodies more than the watermelon cornucopia they came in, and the carrots seemed to be one of the least popular goodies.
The two hippos munched away on their treats while aquarium visitors watched them chomp away.
The hippos are part of the aquarium's West African River exhibit, which also includes porcupines and more than 20 species of African birds in an aviary.